Product Overview
Professional Print-Making Images, Combo Offer:-
LARGE FORMAT A3, VERY HIGH RESOLUTION, VICTORIAN FASHION PLATE IMAGES.
* Large A3 Size Print-Making Images (Approx. 16.5 inches
on the longest side) * Ultra High Resolution - Up To 500dpi !
Timecamera has now combined all their uniquely restored sets of premium size Victorian Fashion Prints into one bargain price 11-Part Download (4 Gb). To see all the images included please visit HERE and then return for an instant 11-part download.
Print, frame and (optionally) sell your own authentic looking large reproductions of these rare and valuable Victorian Fashion Plates from the 19th Century and on using these high quality images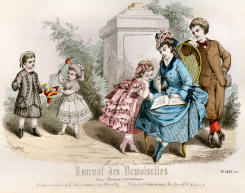 not found anywhere else. Supplied in large format A3 size at a very high resolution they can also be downsized or enlarged further at will.
Their Very High Resolution (360dpi average), Large Size (16.5in on longest side) and repaired/cleaned presentation = high print sales. Depending on your printer big enlargements are possible with these fine images which open up a host of possibilities. Why not start a print-selling business?
The images come with Print Sales Permission - see our Terms of Use page. All you need is an A3 size printer for instant print making or you can reduce them in size for standard A4 printer use. Start a print-making business today for peanuts or take a look at our complete Business Packages for a great wholesale price on your choice of several titles.
Note: These images are all different to those featured in our standard size fashion images collection.
NOTE:- Prefer it on disc? A number of collections may still be had on disc instead of via download at our sister site Timecamera.com (collection contents are the same) - or contact us if you would like to receive a no-obligation Paypal invoice for the disc alternative, including postage.