Product Overview
THIS is a unique to Timecamera image download (2.27 Gb) collection, enabling you to Print, Frame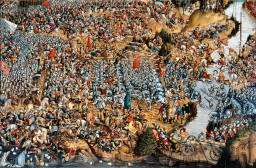 and sell if desired your own famous 1800's Battles Lithographs (plus some bonus paintings) from favourite famous publishers such as Currier & Ives, Kurz Allison and Sarony without the copyright problems of other collections.
This bargain priced 200-image download now features a hand-picked collection of 250 rare antique colour images (in minimum compression .jpg format for any system) already restored and ready-sized for immediate printing on a wide range of papers. The file sizes are large for creating quality prints, at a minimum several hundred K up to about 10mb, and the prints also look stunning in 8x10inch frames - or larger for the dozen or so Large Format Images now also being included.
Popular Sellers
We have done all the long hours of work for you by retouching and optimising these antique images specially for printing and have converted them into large image files for you to create and frame your own Beautiful Prints directly from a photo quality inkjet or similar printer. Most are 10x7inch in size (several larger are now also included) and they make very popular sellers. Complete with instructions for beginners. Order download now at our special price.
BONUS: JUST added to the set is an extra selection of 30x high res. lithograph images of the Crimea War (1853-56).Based on sketches by William Simpson these have all now been uniquely re-touched and enhanced for inclusion. Bigger than A4, they are perfect for A3 printers but can of course be altered to suit, up or down at will. At A3 they are approx 300 dpi and high res. increases even further for A4.
NOTE:- Prefer it on disc? A number of collections may still be had on disc instead of via download at our sister site Timecamera.com (collection contents are the same) - or contact us if you would like to receive a no-obligation Paypal invoice for the disc alternative, including postage.